NZs #1 Musicians Community
Find band members, join a band, arrange a jam, offer services to bands and musicians, buy/sell music gear, meet other musicians.
---
New Zealand has a very active and ever expanding music community, a wealth of resources and is teeming with surrounding services, support and businesses. NZBands aims to bring all of these, and you together, making getting things done easier for us all - totally FREE.
---
Latest Listings
---
Do you have lyrics and no tune? Or maybe an awesome riff/hook and need some words to compliment it? The Beatles had Lennon & McCartney - keen to collaborate on a songwriting project. Keen to meet up an a casual/semi-regular basis to wor...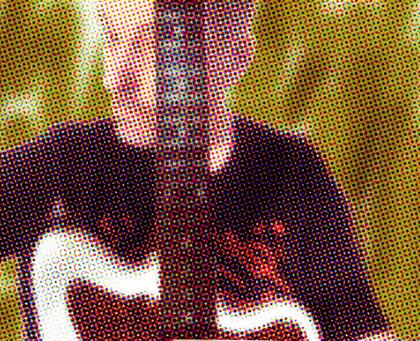 Kia ora. Aucks guitarist, bassist, co-writer with production chops looking to co-write and demo a short set of songs before expanding to develop and do gigs. I'm a colourful textural guitarist, wth a few unique dynamics and voicings, and a...
Just putting it out there as can only ask. Does anyone have any interest in doing basic mixing, a few bvs and basic chords in a cover band. We are already a complete band but would be cool if someone was keen to. Do that. Ideally plug in a...

Need help with your new song? We're an Auckland home-based production facility - ideally suited to the solo singer/songwriter looking to record anything from their first demo to an entire album. Producer/Engineer: Ian Rushton...
I am offering affordable mixing services for your music. I am offering the first song for free, from there it is only $50 per song. With discounts offered on EPs and Albums. You can contact me at: alexfrasermusic50@gmail.com. You can listen...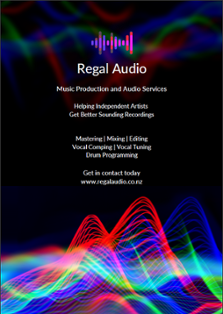 Get your music mixed/mastered and release it www.regalaudio.co.nz
Are you looking for a free mix? Hey there, my name is Daniel and I am a musician and a producer looking to get some mixing experience. I've been producing for just over 3 years now and have mixed all my own stuff so far. At the moment I'm...
Are you wanting to release music independently? Do you want your best tracks recorded, mixed and released to digital distribution platforms like Spotify, YouTube, SoundCloud, Apple Music, Bandcamp or for demo to share with fans, venues,...
Hey all! Just letting you know I'm an up and coming producer, mix/mastering engineer looking for bands and musicians to work with. I charge a reasonable rate and am open to negotiate. Style preferences are hard rock/metal but can also do si...
I'm recently arrived in Auckland from the UK. I've used Logic continuously since 1998, including recording independent artists and some major label work, and I've taught it in colleges. I'm a qualified teacher. Check out my latest produ...
---