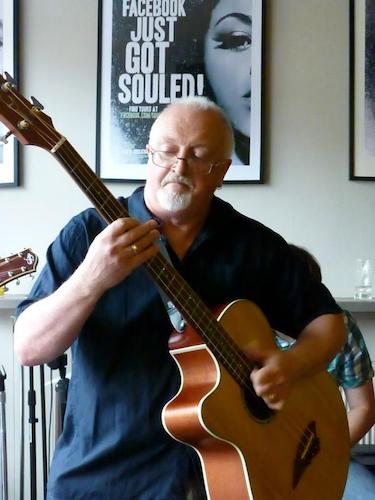 Silverhealer
Original & Covers Musician from Auckland
Joined Wed 17 Jul 2019 - 817 Views
---
I'm a bass guitarist and producer who moved to Auckland from the UK in 2019 - my wife is from Auckland and she was offered a great job back here, so here we are! I'd like to find interesting projects, whether recording, writing, gigging or just jamming. I am in a band (see below) but could be interested in other projects if the intention was occasional gigs and recording.
I do a lot of recording and writing and I'm expert in Logic Pro X, having been using it for over 20 years. I've done professional major label level work, as well as recording and producing independent artists, and have taught Music Technology and Logic in colleges. I could teach Logic, mixing etc if you're interested. That said, I'm wanting to enjoy myself and play with interesting people, so I'm not on the hunt for a fast buck.
Studio: MacBook Pro i7/16gb/3 X external HD/Logic Pro X and other software, plugins by Waves, brainworx, Softoys, Softube, Eventide, and others; Novation and Akai controller keyboards, Focusrite Clarett 4Pre audio interface, Event monitors, Samson headphone amp, Sansamp Bass Driver DI; mics by SE, Citronic, Audio Technica, Shure and others; headphones by Beyerdynamic, Fostex,Audio Technica, Presonus and others.
Basses: Yamaha TRB1005L active 5 string, Cort Artisan B4 Plus AS 4 string, Dean Performer 4 string acoustic bass, Countryman U Bass, with Chowny CHB-1 semi-hollow on order. Sansamp Bass Driver DI; distortion, octave and filter pedals by Mooer.
I play bass in Auckland band Detour St, and do mixes for clients, specialising, thought not exclusively, in GarageBand and Logic projects. I've worked on all sorts of music. I mostly do a sort of funky/fusion/ambient type of thing on my own, but I currently have a contemporary folk project I'm mixing and a rock album in progress with a friend in the UK. I'd be happy playing with an interesting singer/songwriter as well as grooving in a funk band.
Check out my most recent work on my Bandcamp page, for examples of my playing as well as my productions. Also look up Detour St on Bandcamp, Spotify and Apple Music.
And gasp! - yes, I'm 68, if that's important.
---