Looking for funky indie jazzy keys player
---
Hey all! John's Comb is looking for someone to take over the roll of KEYS player. We're currently a group of 5, myself (Layla), Locky, Southern, Brody, and Campbell - we're all aged between 20-25. Our music is sort of an indie/funky thing but with a few jazzy/ rocky influences. We have been together for around a year and a half, we actually all found each other through this website which is insane to think about! In that time have been lucky enough to do some wicked things, like going into studio and releasing our first EP, playing gigs around the Karangahape scene, and we even got to play the freedom stage at SoundSplash. We will be headed back into Roundhead Studio within the next month, and have a few more gigs lined up locally/ around the Karangahape scene. We're after someone likeminded and on the same page as us, willing to commit and to grow with us. A lot of our music comes about from us mucking around, a few of us have music knowledge but we mostly tend to go with the flow and do it all by ear. You can check out our current tunes on Spotify/ apple music by searching John's Comb. Please do not hesitate to flick us a message on IG, @johnscomb , or by sending through a message here. It's been a fun ride so far and can't wait to see what the future brings!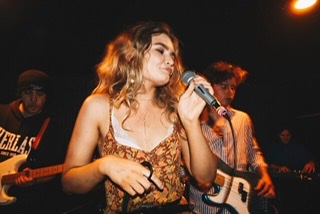 Original Musician from Auckland
Joined: Wed 20 Feb 2019
---
Posted:
Fri 18 Sep 2020
Category:
Musician Wanted
Type:
Piano / Keyboard / Synth
Viewed:
160 times
---
View Profile
Add Watchlist
Send Message
---
---
Keywords:
Keyboard
john''''''''''''''''s comb
funky
indie
band
---
---
More things like this thing...
Original Musician from Auckland
---
By:
Blondini
Posted:
Tue 03 Nov 2020
Type:
Piano / Keyboard / Synth
Viewed:
104 times
Original Band from Auckland
---
By:
Bene
Posted:
Fri 25 Sep 2020
Type:
Piano / Keyboard / Synth
Viewed:
184 times
Original Band from Auckland
---
By:
Grant Thunder
Posted:
Thu 29 Oct 2020
Type:
Piano / Keyboard / Synth
Viewed:
157 times
---