Wanting to form originals jam band
---
Looking for some interesting types to write and rehearse some loose jam arrangements. Definitely aimed at having fun and growing through that process.
I guess the concept is more blues soul funk electronic genres than anything. It's a creative process after all so its going to be a combination of who turns up and what they bring with them.
Open to bass / synth bass / keys / guitar / vocal musicians joining in. Maybe a looping DJ? Singer songwriter? The more interesting the better.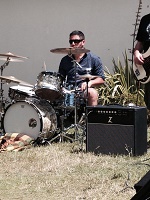 Covers Musician from Christchurch
Joined: Thu 04 Dec 2014
---
Posted:
Tue 18 Feb 2020
Category:
Musician Wanted
Type:
Drummer
Viewed:
511 times
---
View Profile
Add Watchlist
Send Message
---
---
Keywords:
---
---
More things like this thing...
Original Band from Christchurch
---
By:
Sins of Eve
Posted:
Sat 29 Feb 2020
Type:
Drummer
Viewed:
270 times
Covers Musician from Auckland
---
By:
Malibu
Posted:
Sat 25 Jul 2020
Type:
Drummer
Viewed:
87 times
Original & Covers Musician from Palmerston North
---
By:
Rocknrolla
Posted:
Sat 29 Feb 2020
Type:
Drummer
Viewed:
196 times
---