One man band Jae Bedford
---
JAE BEDFORD (OAMARU BASED/SOUTH ISLAND WIDE) (JBE™ Premeire Act)
THE SOUTH ISLANDS PREMIERE ACT SINCE 1996
JAE IS A VERY EXPERIENCED COVERS ARTIST & HAS A PROVEN TRACK RECORD FOR KNOWING HOW TO READ A CROWD & ENTERTAIN IN THE MANNER NEEDED FOR YOUR BAR OR EVENT/BIRTHDAY ETC..... JAE IS AN APPROPRIATE ACT FOR DINNER MUSIC, LIVELY BARS OR PARTIES. A SOLO ARTIST THAT CAN WORK AN AUDIENCE INTO A FRENZY OR CHILL IN THE BACKGROUND. WITH JUST THE RIGHT MIX BETWEEN SOLO ACOUSTIC & BACKING TRACK PERFORMANCES. JAE HAS HAD OVER 10 YEARS EXPERIENCE ENTERTAING A HUGE VARIETY OF AUDIENCES.
SET LIST EXAMPLES
PROUD MARY, OLD TIME ROCK N ROLL, WHY DOES LOVE DO THIS TO ME, SWEET HOME ALABAMA, TALKIN BOUT A REVOLUTION, LIVIN ON A PRAYER, HAVE YOU EVER SEEN THE RAIN, MUSTANG SALLY, CRAZY LITTLE THING CALLED LOVE, BORN IN THE USA, WAGON WHEEL, Little lion man, The gambler. American pie. I fought the law. Sweet child o' mine. Its my life. Brown eyed girl, Born to be wild, Kryptonite, Copperhead road, Summer of 69, Country Roads, Save tonite, Breakfast at Tiffanys, All summer long, Wonderwall, Runaway Train, Delta Dawn, Blister in the sun, Living next door to Alice, 500 miles, Wake me up, little talks, Radioactive, Wish you were here, Footloose, White wedding, 50's Rock n Roll songs, CCR and more.

JAE BEDFORD BAND, SOLO OR DUO (SOUTH ISLAND WIDE)
Jae Bedford is an affordable alternative to a highly priced band with 15 years performing. A top quality entertainer. He has been entertaining audiences professionally since 1996 with material that covers the 50's to today. Country-classic rock. Jae Bedford is a solid investment.
KRYPTONITE WITH OR WITH OUT YOU KNOCKING ON HEAVENS DOOR EVERY ROSE HAS ITS THORN DREAMS JOHNNY B GOODE
MC/ QUIZ MASTER/ NARRATOR SAMPLE OPEN MIC/JAM SESSIONS/KARAOKE

www.jaebedford.webs.com The Official page for Jae Bedford Entertainment INC JBE WAS ESTABLISHED IN 1996 AND STILL GOING STRONG
Biography
JBE is The NZ leader and is on the cutting edge of entertainment, music education, Events and band hire.

A new era has dawned in entertainment agencies, just as it has in entertainment in general. . In the past we have had two types of agencies. One the 'old school' model that is all about the relationships and networks they have created and dominate. The second being the 'nu school' model that is an internet based solution to entertainment needs that takes a fee for connecting artists and clients. Be a part of the new era today. We are approaching you because we believe in your service. Someone is waiting to talk to you now about how we can benefit each other. JBE is not just one act, it is any act anywhere in the country. The experience has in entertainment, Events, Hospitality, Theatre & band hire is second to none. We have your solution. We have a state of the art interactive digital online booking service coming soon. This technology has been two years in the making. It will provide all types of entertainment services including Bands, sound/lighting/video, recording services, event management, Book sales and distribution, themed nights, open mic, jam sessions, Karaoke, music tutors, venue hire, rehearsal space and more. We specialize in Events, Party's, Bar Promotion, Band Hire and more. We can also help you with venues, wedding planners, flowers and photographers. Please feel free to contact jabedfordentertainment@live.com

Jae Bedford Entertainment has been running since 1996. JBE specializes in Music education, band hire, management & Events.
Jae has been an entertainer & promoter since 1996 and has released several solo and band albums. Jae runs the Bedford School of music & Rockit band hire. In his down-time Jae has written an educational book on music management & performance. Jae now manages many great musicians and bands and writes songs for many of these acts.
Description
JBE is The NZ leader and is on the cutting edge of entertainment, Events, music education and band hire. Est 1996.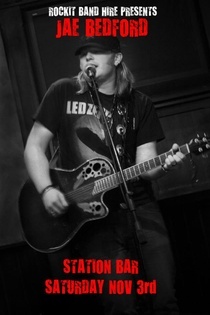 Original & Covers Musician from Dunedin
Joined: Thu 18 Sep 2014
---
Posted:
Sat 30 Dec 2017
Category:
Other Services
Viewed:
651 times
---
View Profile
Add Watchlist
Send Message
---
---
Keywords:
one man band
---
---
More things like this thing...
Original & Covers Musician from Dunedin
---
By:
jaebedford
Posted:
Sat 30 Dec 2017
Type:
Guitarist
Viewed:
715 times
---