6 Artists Accused Of Copyright Infringement
By NZBands
12/10/2014
1749 views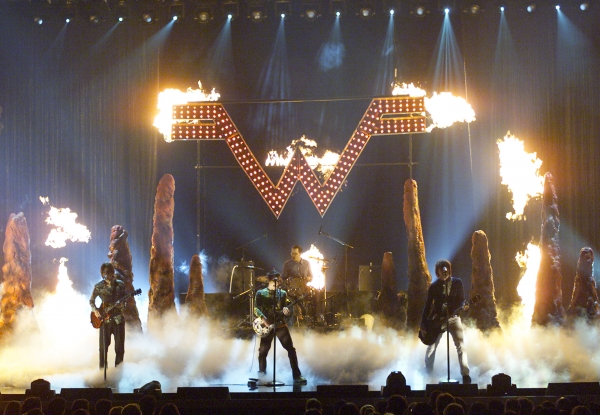 Last week, news broke that electronic artist Deadmau5 was being sued by Disney over claims that his signature mouse helmet and logo are too similar to the Mickey Mouse silhouette logo. Deadmau5 is far from the only musician to have faced such legal trouble, however. Here are six more artists who have threatened with copyright infringement lawsuits (or lawsuits of a similar nature).
1. Paul Simon
One of the most popular songs of Paul Simon's solo career was his 1973 single "Kodachrome" from There Goes Rhymin' Simon, which was named after a type of film made by Kodak. Though it was a hit in the US, its use of a trademarked name caused it to be under-promoted in England, and it was even banned on Australian radio. Kodak apparently asked Simon to note their trademark in the album notes, though based on my personal copy of There Goes Rhymin' Simon, he seems to have ignored this request.
2. Sufjan Stevens
The original cover of Sufjan Stevens' 2005 album Illinois featured an image of Superman flying over Chicago, due to the fact that the city of Metropolis from the Superman comics was based on Chicago. However, the cover had to be redesigned soon after the album's release due to the threat of a lawsuit from DC Comics. The Superman image was replaced by an image of three floating balloons.
3. The Velvet Underground
The Velvet Underground's rough, avant-garde sound was already a gamble for any record label during the '60s, so the last thing the band needed was a lawsuit. The back cover of the Velvet's debut album The Velvet Underground & Nico featured a photo of the band performing live, with an image of actor Eric Emerson projected onto them, which was used without Emerson's permission. When Emerson threatened to sue, his image was removed from future pressings of the album.
4. The Residents
In a move that undoubtedly got at least a few copies sold, experimental rock band the Residents based the title and cover of their debut album Meet The Residents on the Beatles' 1964 album Meet the Beatles! However, the Beatles' labels EMI and Capitol were predictably not too happy about the cover, and threatened to sue the Residents. The album's 1977 reissue featured a new cover, though it still parodied the Beatles.
5. Weezer
In 1996, Weezer was sued over the title of their album Pinkerton, and though the album is named after a character from the opera Madama Butterfly, the lawsuit had nothing to do with the opera. Instead, it came from Pinkerton's Inc., a California security firm, who sought two million dollars in damages, believing that Weezer was somehow trying to capitalize on their name, despite the fact that they were already a multi-platinum rock band. The case was eventually thrown out.
6. Led Zeppelin
Led Zeppelin has had its fair share of legal trouble when it comes to musical plagiarism, but in 1970, the band's name itself caused a bit of a legal stir. While playing in Copenhagen, the band was threatened with legal action by Eva von Zeppelin, a relative of Ferdinand von Zeppelin, the creator of the zeppelin aircraft. To avoid a lawsuit, the band changed its name to The Nobs for just one night