8 Guitarists Who Are More Famous Than Their Lead Singers
By NZBands
01/10/2014
2064 views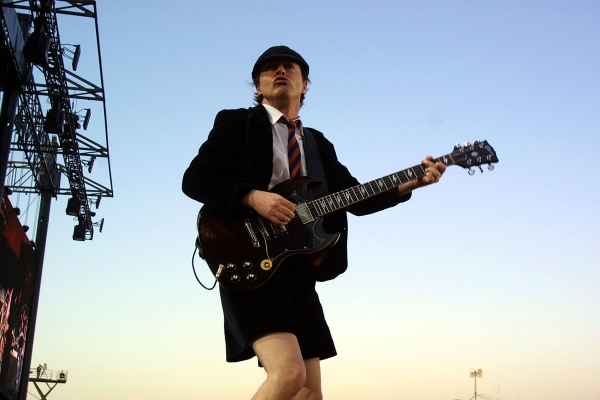 It's pretty common for a band's lead vocalist to be its most famous member, whether or not they actually deserve it (Ozzy Osbourne...), but there are some cases where the lead vocalist is actually outshone by the guitarist. Here are eight guitarists who are more famous than their lead singers.
1. Jimmy Page (Led Zeppelin)
Robert Plant may have been integral to the development of the God-like frontman persona, but Led Zeppelin was always Jimmy Page's band. He formed the band, produced all of its albums, and was the primary creative force, not to mention one of rock's greatest guitarists. Though he may have been the archetypal "mysterious guitar player," this only enhanced his popularity.
2. Angus Young (AC/DC)
Though Angus Young and his brother Malcolm formed AC/DC together and are the band's primary composers, Angus' wild showmanship and flashy guitar solos have led him to being the band's most recognizable member, even more than singer Brian Johnson, who has been the band's frontman for 34 years.
3 & 4. Joan Jett/Lita Ford (The Runaways)
Singer Cherie Currie might have been the most popular member of the Runaways during its late '70s run, but guitarists Joan Jett and Lita Ford had far more visibility and success as solo artists in the years following the band's split.
5. Noel Gallagher (Oasis)
Though collectively the Gallagher brothers are the faces of Oasis, guitarist Noel Gallagher is the actual brains behind the operation, writing nearly all of the band's songs including every song on its beloved first two albums. Because of his role as bandleader, and due to his frequently amusing and witty persona in the press, Noel is the Gallagher brother people usually turn to when they want insight into Oasis.
6. Pete Townshend (The Who)
Though Pete Townshend may not have had the flashy technique of hyperactive drummer Keith Moon, aggressive and innovative "lead bassist" John Entwistle, or leather-lunged frontman Roger Daltrey, his role as The Who's lead songwriter more than makes up for it. He may not be as infamous as Moon (few people are), but people tend to think "Pete Townshend" before "Roger Daltrey" when thinking about the Who.
7. Scott Ian (Anthrax)
I'm not sure who the most recognizable member of Anthrax was during its '80s and '90s heyday, but it's undoubtedly been guitarist Scott Ian in recent years. His presence on various heavy metal documentaries and VH1 music specials has turned him into the face of the band, even if he's never been the band's lead vocalist.
8. Robert Fripp (King Crimson)
Lead vocalists are usually the most famous members of bands, but a band like King Crimson has had so many lead vocalists that none ever stuck around long enough to achieve this status. Instead, guitarist Robert Fripp has become the band's most recognizable member, due to the fact that he's been the band's sole constant member since its 1968 formation, and its driving creative force.